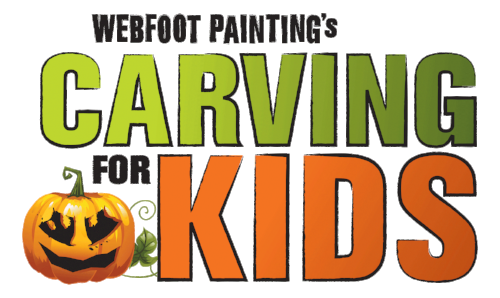 That's right, $28,000 dollars from pumpkins!! Thank you Webfoot Painting for your 9th year Carving for Kids! Webfoot Painting has raised tens of thousands of dollars for MountainStar through Carving for Kids. We are truly in awe of their commitment to protect children throughout Central Oregon. We are grateful for community supporters - like Webfoot Painting - who continue to amaze us with their kindness and generosity. 
MountainStar would also like to thank all of the businesses who purchased carved pumpkins. This event would not be what it is without your support. We hope you enjoy your pumpkins!
A special thank you goes out to Wells Fargo and Newport Avenue Market for sponsoring Carving for Kids! Wells Fargo has sponsored this event for many years and we can't thank you enough for your continued support. Newport Market provides the perfect venue for this event. Thank you for sharing your parking lot and all that you do to help with Carving for Kids!
Thank you to the countless volunteers who helped with this event, especially all of our expert carvers who put in hours and hours of work to create works of art. Last but not least, thank you to all those who braved the rain at Newport Market to carve pumpkins and support this fun event. You make this event! See you all next year!