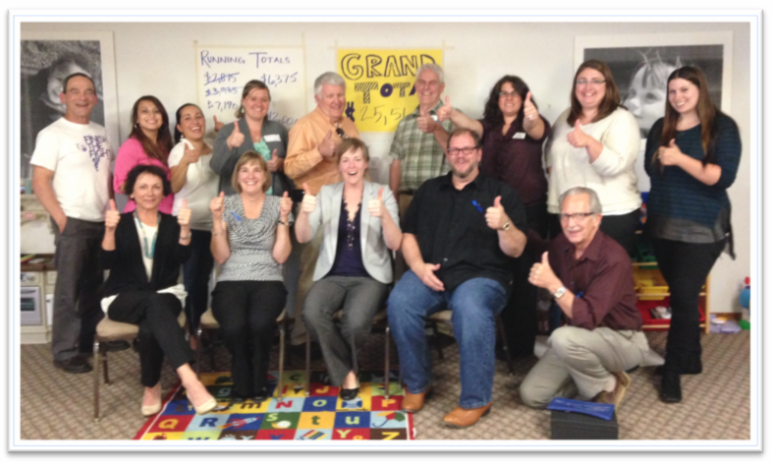 MountainStar Madras held its 5th annual luncheon on Thursday, April 30th – fittingly the last day of Child Abuse Prevention Month. The 90+ attendees of the luncheon contributed a total of $25,565 which is a new record for the organization!
A generous local couple offered a $12,000 matching challenge in an effort to inspire their fellow community members to make local children a giving priority. It worked! Several members of the Juniper Junction Community Council (advisory board to MountainStar Madras) and a variety of local businesses including COSI, Norton Cattle, Gary Gruner Chevrolet/Buick/GMC, US Bank, and the Verizon store committed to a total of about $6,000 prior to the luncheon. The challenge of raising the remaining $6,000 to meet the match was put forward to luncheon guests that day at the Madras United Methodist Church. Together, guests responded with over $7,000 worth of donations, bringing the total to over $25,000!
The funds contributed will all be put to use on behalf of Jefferson County babies and toddlers who are at risk of abuse and neglect. "We are so excited to see the community getting so involved, really standing behind our efforts," said Jeanna Darnell, MountainStar's Program Director, "The increased support this year will enable us to continue providing high-quality services aimed at keeping vulnerable families intact and improving." Darnell also explained that a small portion of the funds will be used to ready the nursery's backyard garden for planting season. Children in the therapeutic classes enjoy planting and nurturing flowers and vegetables each summer. If you would like to volunteer in the garden or the therapeutic classes, please call 541-475-2537.
About MountainStar Family Relief Nursery – MountainStar Family Relief Nursery is a child abuse and neglect prevention nonprofit serving Deschutes, Jefferson, and Crook counties. Through the help of donors, business partners, and community volunteers, our staff are able to offer crisis intervention and healing for over 350 families who come to us for help voluntarily each year. MountainStar works to keep babies and toddlers safe and restore relationships within families living in crisis. We do that with therapeutic classes, parent coaching, home visiting, family therapy, and basic needs support. 97% of families who stay in our Relief Nursery program for one year do not have subsequent involvement with the Department of Human Services/Child Welfare (shown in an independent study by PSU in 2012). MountainStar is proud to work in prevention, protecting very young children from peril.