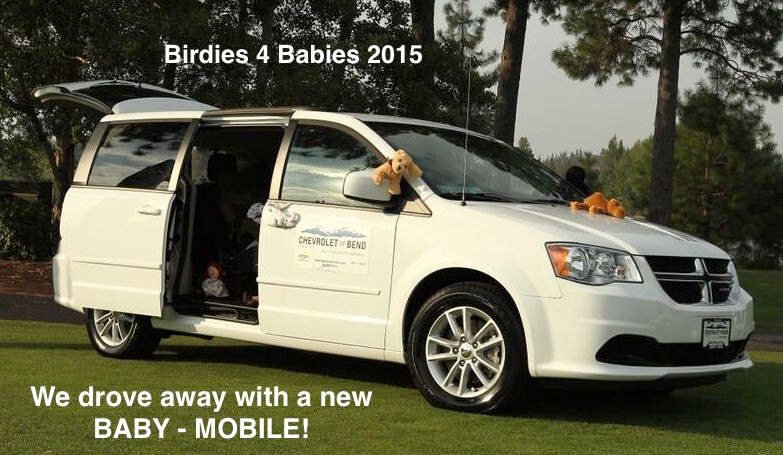 An astounding $90,000 was raised by planners, sponsors, and participants of 2015's Birdies 4 Babies Club Team Challenge held at Broken Top Club on August 28th. Proceeds from this event support MountainStar's family-focused child abuse/neglect prevention program that strengthens families who are living in crisis.
Over 170 participants and businesses generously supported the Birdies 4 Babies golfing fundraiser, including Chevrolet of Bend, who was the STAR event sponsor. "We are overwhelmed by the community's desire to keep children safe, parents successful and families together," says Tim Rusk, Executive Director of MountainStar. "The Birdies 4 Babies Club Team Challenge marks a new milestone in the history of MountainStar's 11-year Birdies 4 Babies grassroots golfing fundraiser. With some of the funds raised at this year's event, MountainStar will purchase the "Baby Mobile", a 7-passenger van that will provide desperately needed transportation for babies and toddlers to and from MountainStar's nationally-accredited therapeutic classes."
MountainStar leaders are absolutely astounded at the success of this event and we could not be more grateful to the devoted planning committee of Kathy Murch, Susan and Werner Zehnder, Virginia De Kat, and Sally Murphy!
A big thanks goes out to a few others for their generous effort and contributions to the event: all of our amazing Team Captains, Sarah and Brad Gray, Shelly Hummel, photographer Mike Nelson, Scott McLean auctioneer extraordinaire, Pete McCracken for emcee-ing, the hard-working MountainStar volunteers and Broken Top staff!
We're of course also very grateful to all guests for attending and donating — hope you had as much fun as we did! — and to everyone who contributed items and sponsorships toward the event. Driving away in our new Baby-Mobile was the icing on the cake! Thanks to Chevrolet of Bend, everyone who bought stars, and our anonymous friend who rounded out the $30K total raised for a new van to transport babies and toddlers to our therapeutic classes.
About Birdies 4 Babies:
During the summer of 2005, the Birdies 4 Babies golfing fundraiser was started by six good friends of MountainStar Family Relief Nursery. Following the "Birdie Club" and "2 Club" tradition that rewards birdies with a dollar or two paid to the golfer, these six avid golfers agreed to collect their birdie money and donate it to MountainStar.  Adopting the name "Birdies 4 Babies", $500 "birdie" dollars was given to MountainStar at the end of the 2005 golfing season. Over the years, both amateur and professional golfers throughout Central Oregon have become involved with Birdies 4 Babies. Today Birdies 4 Babies funds are donated to MountainStar in a variety of ways, including contributions of birdie dollars and tournament winnings, the sale of gently used golf balls and proceeds from an annual B4B golf tournament. Since its inception, over $250,000 has been raised, with all the funds directly supporting MountainStar's programs. According to Kathy Murch, former Board Chair of MountainStar and a Birdies 4 Babies volunteer, "Birdies 4 Babies works well because it's such a simple concept, and the golf course provides a terrific venue for advocates of MountainStar to talk about the imperative role it plays in our community."