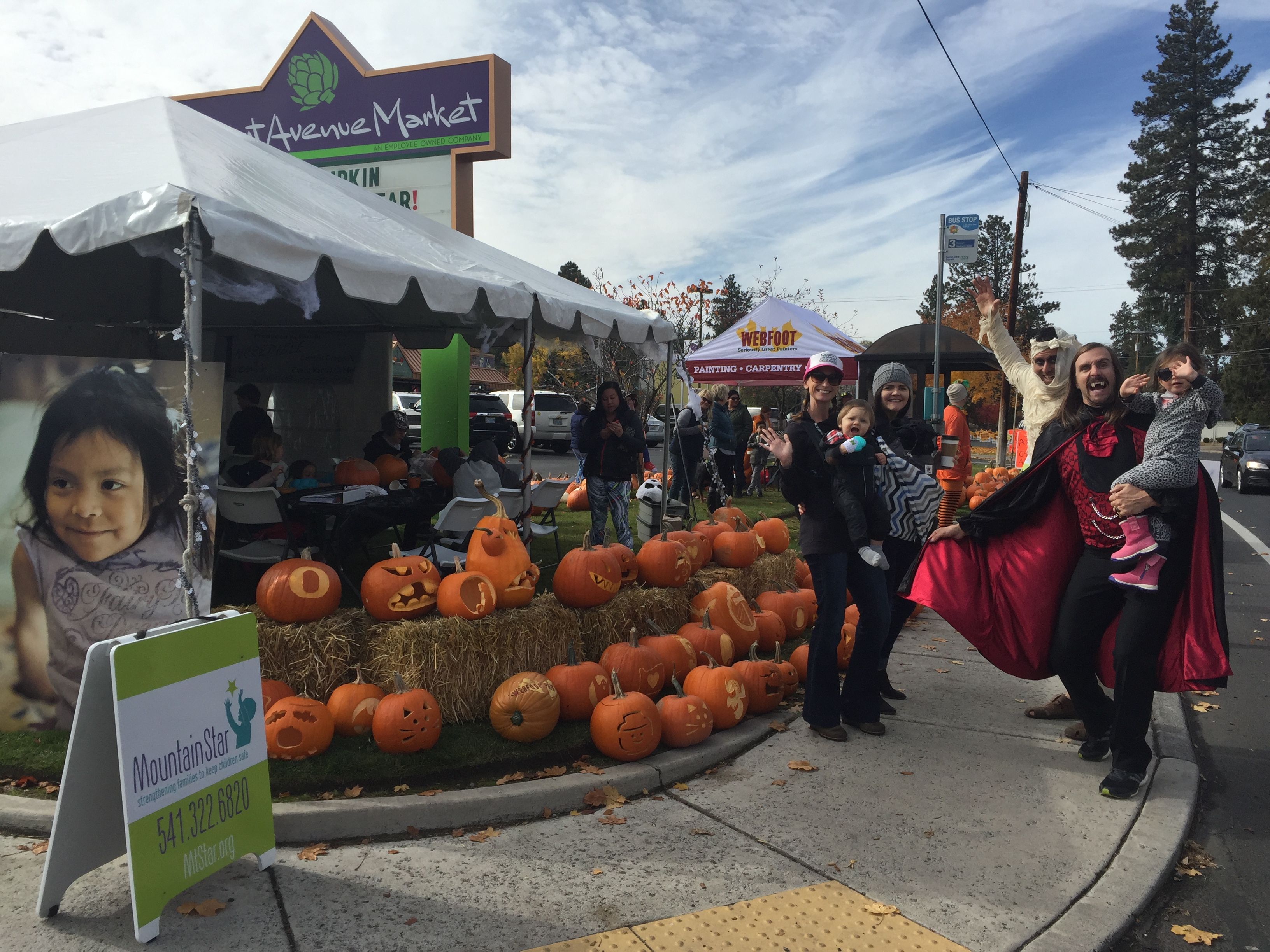 Bend-based business stand-out Webfoot Painting hosted its seventh annual Carving For Kids event to benefit MountainStar Family Relief Nursery on Saturday, October 22 at Newport Avenue Market in Bend. Gavin Hepp and Travis Ulrich, co-owners of Webfoot, set a lofty goal to raise $20,000 to support MountainStar's work preventing child abuse, which would best last year's record of $16,400 raised.
Through their diligent efforts to carve and sell more than 250 pumpkins in three days, the Webfoot Painting crew raised over $24,000!
MountainStar is incredibly grateful for all the effort and enthusiasm put in to Carving For Kids. Executive Director Tim Rusk said, "Webfoot Painting's team amazes us year after year – more than $24,000 from pumpkins! We'll be putting those funds to use strengthening vulnerable families and keeping kids safe as a result. Thank you to all businesses and community members who contribute through this fun event!"
A big thank you goes out to:
• Webfoot Painting staff for volunteering their time to harvest, load, carve, and prepare 250+ pumpkins for the event!
• Central Oregon Pumpkin Co. for donating all the gourds!
• Newport Avenue Market for providing the perfect venue!
• Volunteer carvers – who are really becoming experts after 6 years!
Community members enjoyed searching for unique pre-carved pumpkins, as well as carving their own jack-o-lanterns. Businesses who pre-ordered custom logo pumpkins picked those up and are displaying them all around Bend. Look for them on the counters of these local businesses:
• 900 Wall
• Amerititle
• Aperion Management Group
• BFR
• Backporch Coffee Roasters
• BasX
• Bend Furniture and Design
• Bend Painting
• Bleu Bite Catering
• Building Solutions
• Caldera Springs
• Cascade Relays
• Circa Interior
• Country Financial
• Cuppa Yo
• Directors Mortgage
• Dogs Allowed Cannon Beach
• Dutch Brothers
• Fincham Financial
• Great Northern Windows
• Haven Homes
• Home Friday's
• Humm Kombucha
• Jones & Roth, P.C.
• Knife River
• Lumen Mortgage
• Mill Point Dental
• Miller Ferrari WM
• Montgomery Builders
• Mountain View Heating
• NW Quality Roofing
• Newport Avenue Market
• Norman Building and Design
• Parrilla Grill
• Pediatric Dental Associates
• RE/MAX Coastal Advantage
• Secure Storage
• Sherwin Williams
• Skyline Dental
• Sleep Inn
• Springtime Landscaping
• Starfire Body Piercing Studio
• Struble Orthodontics
• Sullivan Dental
• Summer's Flooring
• Summit Bank
• Sunwest Builders
• The Wine Shack
• Therapeutic Associates
• Thump Coffee
• Tobolski Watkins Engineering, Inc.
• Warren John West, PC
• Wells Fargo
• Windermere
• Worthy Brewing