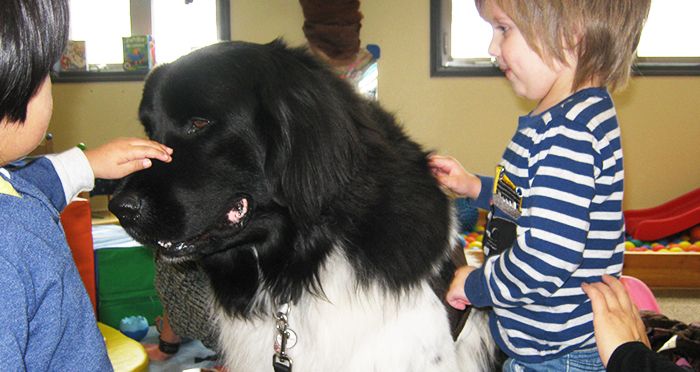 MountainStar Family Relief Nursery, a Central Oregon non-profit organization dedicated to preventing child abuse and neglect, is excited to welcome Clyde the therapy dog to their Therapeutic Early Childhood Program (TECP) in Bend, Oregon.
Clyde, an adult Newfoundland, is certified through Pet Partners, the largest and most prestigious non-profit registering therapy dogs and other therapy animals. Clyde has years of experience visiting hospitals, including St. Charles in Bend. According to his owner, Michael Eisenberg, Clyde especially enjoys visiting children and has visited with children as young as four months old. He has done a great deal of his therapy work in children's hospital wards, including cancer wards, and in 2015 spent 114 days visiting at the Children's Hospital Los Angeles.
Clyde will enhance the classroom environment helping children with bonding, socializing, and confidence (Clyde follows special commands to help children wary of dogs). According to Pet Partners, a dog's or other pet's presence lowers blood pressure response to mental stress.
The MountainStar program staff has developed visitation guidelines and parents were notified of Clyde's participation within MountainStar's classrooms.
Link to Original Article: http://cascadebusnews.com/mountainstar-welcomes-clyde-therapy-dog/#prettyPhoto