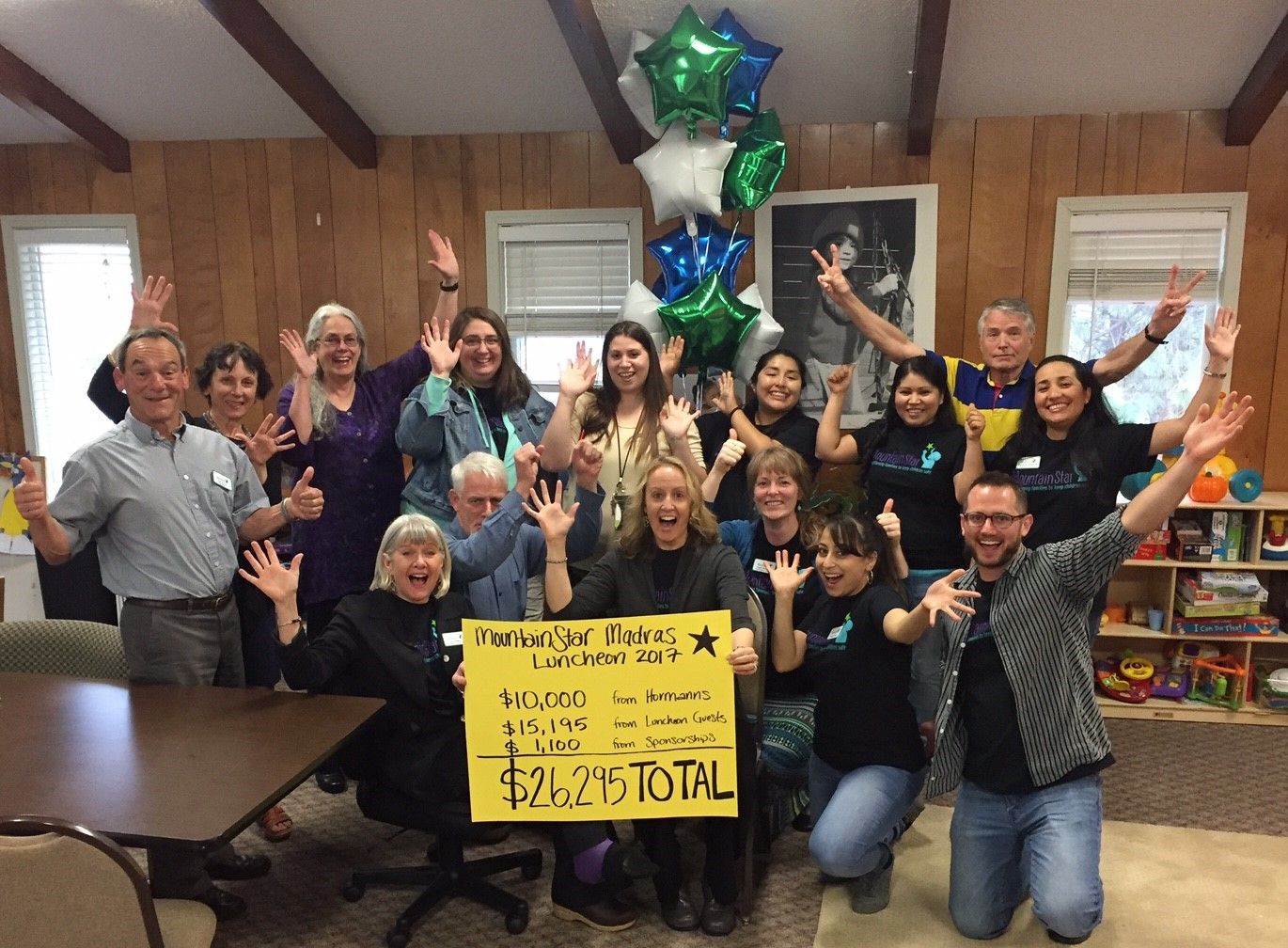 On May 11, 2017, the Jefferson County community came to MountainStar's annual Luncheon at the United Methodist Church in Madras to support the MountainStar facility in Madras. The event was a HUGE success!
With your help, we raised $26,295 for babies and toddlers in Jefferson County!
This includes the incredibly generous $10,000 gift from a local couple, which was a match for the first $10,000 donated by luncheon guests. An astounding SEVEN $1,000 gifts will ALSO be matched by Maybelle Clark Macdonald Fund, which brings the grand total to $33,295 and makes 2017 a record-setter!!
MountainStar is incredibly grateful to the community of Madras for their generosity. Program Director, Jeanna Darnell said, "The Jefferson County community is incredible! Year after year they amaze us with their kindness, enthusiasm, and support for our work. We'll be putting the funds to use in MountainStar Madras' Therapeutic Early Childhood and Safety Net programs. These programs help keep children safe, support parents, boost healthy development, and repair relationships for our Madras kiddos."
Thank you to our sponsors for underwriting the costs associated with the Luncheon. Our sponsors for the event were Gary Gruner Chevrolet-Buick-GMC, the Rotary Club of Jefferson County, Keith Manufacturing, and Tina's Treats. Thank you to our speakers, emcee, Royce Embanks, our client Father, Aaron, and City Councilman, Bartt Brick for your impassioned presentation describing all the work MountainStar does for the community. MountainStar would also like to thank all of the hard work our Advisory Board and Table Hosts put in to make the Luncheon successful.
Table hosts for the event were (Advisory Board members marked with *):
Bud & Beth Ann Beamer*
Davis Barringer
Daryl Booren
Katherine Brick*
Ken Clark
Linda Clowers*
Heather Crow-Martinez
Brenda Davis
Mary Forman
Shirley Gerke
Angela Harris
Stephen Hillis*
Roy Jackson*
Tena Jackson*
Rosalynn Jaeger*
Tina Laughlin
Dee Poland
We are so grateful to everyone who helped make this possible; we truly could not help vulnerable families the way we do without the support of the Madras community.