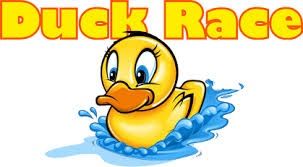 MountainStar was selected as a Duck Race beneficiary for the 2017 Drake Park Duck Race in Bend, Oregon! Thank you to Rotary Club of Bend High Desert for nominating MountainStar. This amazing event brings the community together and provides needed support for children and families throughout Central Oregon.
The 2017 Great Drake Park Rotary Duck Race is scheduled for Sunday, September 10th starting at 11 am at Drake Park. The fun-filled event is an ongoing annual fundraiser organized by all four Bend area Rotary clubs. Since 1989, the race has generated over one million dollars for Central Oregon charities, all supporting children and families in need.
MountainStar needs your help! If we sell 500 Duck Race tickets, MountainStar receives $10,000. This would be a wonderful gift to the babies and toddlers we work with. Not only will you be helping MountainStar, you will have a chance to win fantastic prizes, including a $20,000 retail voucher to Smolich Motors! If you would like to buy a duck race ticket from MountainStar you have options:
1. Connect with a MountainStar representative and ask about buying tickets
2. Come to our office located at 2125 NE Daggett Lane, Bend, OR 97701. Speak to anyone at our office and they can sell you a ticket.
3. Go to https://www.theduckrace.com/shop/mountain-star/ and buy tickets online. All tickets sold through our specific online store go towards our goal
MountainStar would like to send a huge thank you to the Rotary Club of Bend High Desert. We would also like to thank all the amazing organizations chosen as beneficiaries, the generous sponsors of the Duck Race, and all of the Rotary Clubs that make this event possible. We will see you on race day! Don't forget to purchase your Duck Race tickets!
Links:
MountainStar Duck Race Store - https://www.theduckrace.com/shop/mountain-star/
The Great Duck Race Official Website - http://www.theduckrace.com