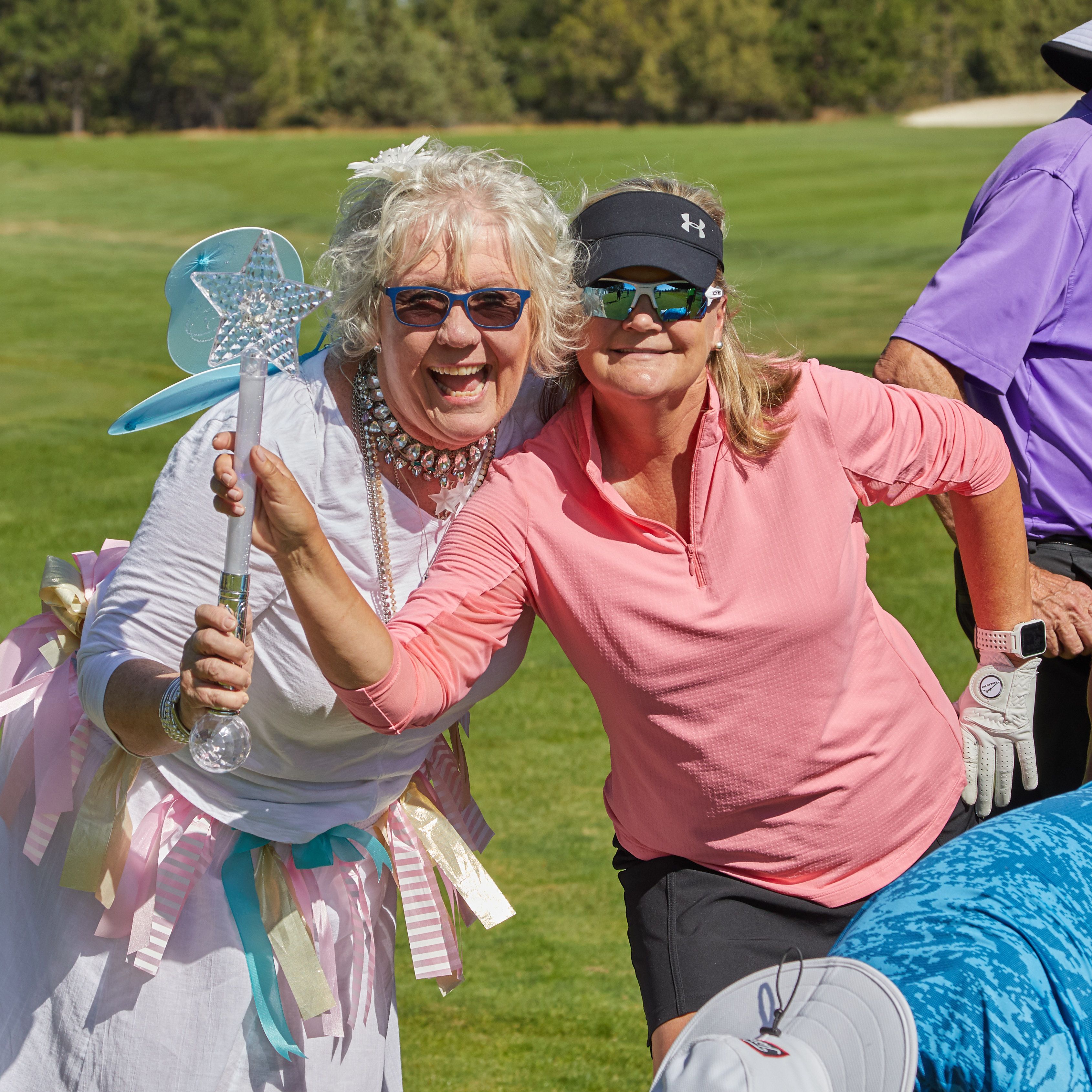 MountainStar's signature fundraising event, Birdies 4 Babies, with generous support from our community, continues to get better year after year. This year, more than 250 supporters of MountainStar Family Relief Nursery broke our previous fundraising record and helped raise $298,000 for children in our community. As MountainStar expands services in Redmond, transportation will be necessary to bring the kiddos to our future site. We challenged the crowd to raise $30,000 in raffle tickets to help us purchase a new bus for our Redmond site. Attendees rose to the challenge and our raffle sold out! MountainStar now has the funds to purchase a new bus for Redmond transportation.
Generous contributors were joined by hundreds of businesses and sponsors who donated gifts for our auction and covered event costs. We would like to extend a special thanks to Pahlisch Homes for their STAR Event sponsorship. Pahlisch has been a great friend to MountainStar and Birdies 4 Babies for many years now and they have been helped grow this event into what it is today.
A big thank you goes out to our planning committee: Co-Chairs Mary Jensen & Robin Bailey; Carole Frazier, Margi Lillegard, Kathy Murch, and Cindy Chrystal. Without your help, we would not be able to put this event on. Our Co-Chairs Mary Jensen and Robin Bailey were absolutely instrumental in the success of Birdes 4 Babies 2019. Thank you for your hard work, dedication, and all of the fun you brought to the planning process this year. 
Our returning Auctioneer Tim Leahy was fantastic and we are so glad he will continue to host Birdies 4 Babies. Thank you to our MC and Fairy Godmother Jeanne Berry. We are indebted to our volunteers, staff, sponsors, and community for your help making Birdies 4 Babies a success!
Check out our results page and stay connected to Birdies 4 Babies on our Facebook page.
Mark your calendars for next years event: August 30th, 2020!
Are you interested in helping out with next years event? Contact Kayla at KaylaR@mtstar.org for info on how you can get involved!
About Birdies 4 Babies
During the summer of 2005, the Birdies 4 Babies golfing fundraiser was started by six good friends of MountainStar Family Relief Nursery. Following the "Birdie Club" and "2 Club" tradition that rewards birdies with a dollar or two paid to the golfer, these avid golfers agreed to collect their birdie money and donate it to MountainStar. Adopting the name "Birdies 4 Babies", $500 "birdie" dollars were given to MountainStar at the end of the golfing season. Over the years, both amateur and professional golfers in Central Oregon have become involved with Birdies 4 Babies. Today Birdies 4 Babies funds are donated to MountainStar in a variety of ways, including contributions of birdie dollars and tournament winnings, the sale of gently used golf balls and proceeds from an annual B4B golf tournament. Since its inception, over $500,000 has been raised, with all the funds directly supporting MountainStar's programs. According to Kathy Murch, former Board Chair of MountainStar and a Birdies 4 Babies volunteer, "Birdies 4 Babies works well because it's such a simple concept, and the golf course provides a terrific venue for advocates of MountainStar to talk about the imperative role it plays in our community."
Thank you to the Crosswater Community, particularly Kim Rogers, Andi Northcote, Diana Hall, Teresa Schneider, and Valerie Britton for all have you done and continue to do for the babies!