Volunteers are integral to our organization! Below you will find our volunteer spotlight and a  list of volunteer opportunities that are typically available. If you are interested in getting involved, complete the application form below to get started.
*Volunteer Spotlight*
Scott has been a volunteer at MountainStar for two years. He volunteers in the therapeutic classrooms in both Prineville and Madras, and he is also a Fairy God-Parent! After we had to close our classrooms in March, Scott could barely wait to come back to the classroom. Reopening our therapeutic classrooms has been full of logistical challenges, and Scott has been incredibly flexible and patient with ever-changing dates and times. He is now happily back in the classroom, and the children are thrilled to see him again.
In Madras, Scott donated harmonicas to each child last year as well as pumpkins & birdhouses for the kids to decorate and paint. All the kids love him, and he always makes sure to play one on one with each child when he comes in.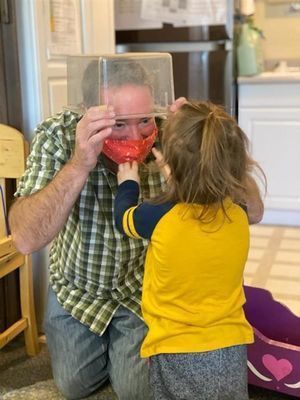 Scott always goes out of his way to help at Prineville center as well. He always asks if they need anything to be fixed in the classroom or need anything specific for the kids. One of the interventionists in Prineville shared this story:

"Just recently we were playing outside, and Scott realized that we don't have that many outside toys. He asked what the kids liked playing with, and I told him that we had two outdoor balls but that we had to throw them away because they popped in the shed. The kids always liked playing with them, but it always made me sad that we didn't have enough for each kid to have their own because it always ended up with one of the kids crying because they never got a turn. Scott let me know that he would ''take care of that,'' and he came the next week with colorful playground balls - enough for each kid to have their own! The kids were super happy when they saw all the new balls that we had!"
---
Volunteer Opportunities
Classroom Volunteers

Interact with children in therapeutic classes. Requires positive attitude, sense of humor, patience, and ability to lift children up to age 3. Shifts are once per week (M-F) for 3 hours.

Office Helpers

Help with projects around the office including making posters, filing, and more. Requires ability to follow instructions, creativity, and attention to detail. Shifts are weekdays and vary in length.

Special Events - Community Outreach

Become an official advocate, represent MountainStar at community events. Requires personable and approachable demeanor, ability to lift/carry/set up items. Shifts vary.

Fundraisers

Help with current fundraisers or create one of your own! Requires interest and/or experience in fundraising.

Board of Directors

Elected Board Members govern the organization and contribute to its leadership and development. Requires leadership skills and ample time to dedicate. Meetings are once per month for two hours, not including separate committee meetings.

Interns

Unpaid internships are available within our therapeutic classes, mental health program, and development (fundraising/marketing) department. Requires interest in the relevant area and dependability.

If one of these jobs descriptions sounds like a match for your volunteer goals, please download our application by clicking the link and return it to volunteer@mtstar.org or call 541-322-6820 for info or questions.