Volunteers are integral to our organization! Below you will find our volunteer spotlight and a  list of volunteer opportunities that are typically available. If you are interested in getting involved, complete the application form below to get started. 
*Volunteer Spotlight*
Providing Hope and Opportunity!
On Friday, February 24th, fourteen students from the OSU TRIO program volunteered their time as a part of their National TRIO Day – a time set aside for community service! The TRIO Student Support Services program at OSU-Cascades provides opportunities for academic growth and development, assists students with basic college requirements, and serves to motivate students toward the successful completion of their post-secondary education.
We started the day with a brief presentation of MountainStar's vision, mission and values and a tour of Deschutes Children Foundation Bend site to highlight our non-profit collaboration. The rest of the morning was spent in the 2's classroom working on various projects for MountainStar's annual golf fundraising event, Birdies 4 Babies, to be held on Sunday, August 13th at Broken Top Club & Tetherow.
It was wonderful to witness the diversity and engagement of this next generation towards philanthropic work! It was inspiring to see their willingness to devote time and talents towards MountainStar's work and their joy was contagious in the process. It gives one hope that our community, and world at large, are in great hands.
We are incredibly thankful for OSU TRIO students for sharing their National TRIO Day with us at MountainStar and hope for many more opportunities to partner in the future!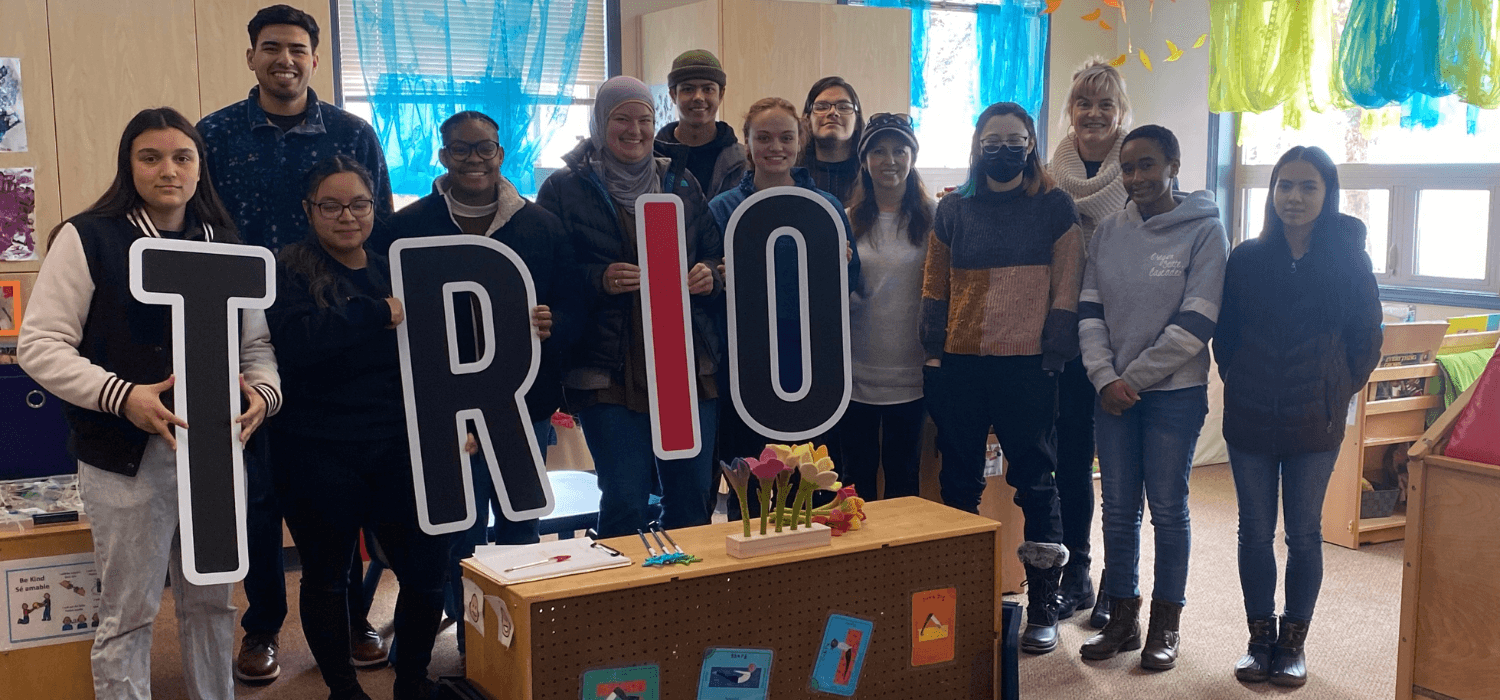 ---
Volunteer Opportunities
Classroom Volunteers

Interact with children in therapeutic classes. Requires positive attitude, sense of humor, patience, and ability to lift children up to age 3. Shifts are once per week (M-F) for 3 hours.

Office Helpers

Help with projects around the office including making posters, filing, and more. Requires ability to follow instructions, creativity, and attention to detail. Shifts are weekdays and vary in length.

Special Events - Community Outreach

Become an official advocate, represent MountainStar at community events. Requires personable and approachable demeanor, ability to lift/carry/set up items. Shifts vary.

Fundraisers

Help with current fundraisers or create one of your own! Requires interest and/or experience in fundraising.

Board of Directors

Elected Board Members govern the organization and contribute to its leadership and development. Requires leadership skills and ample time to dedicate. Meetings are once per month for two hours, not including separate committee meetings.

Interns

Unpaid internships are available within our therapeutic classes, mental health program, and development (fundraising/marketing) department. Requires interest in the relevant area and dependability.

If one of these jobs descriptions sounds like a match for your volunteer goals, please download our application by clicking the link and return it to volunteer@mtstar.org or call 541-322-6820 for info or questions.